The Asahi Mountain Range

The Asahi Mountain Range
The Asahi Mountain Range is located at the prefectural border of Yamagata and Niigata. With Mt. Daiasahidake (1870 m) as the main peak, the range includes 15 km of ridgelines including Mt. Nishiasahidake, Mt. Ryumon, and to Mt. Itodake as its main ridge. It is the largest mountain range in the Tohoku region and characterized with deep valleys cut into the sides. It is referred to as the Tohoku Alps, and loved by many hikers. Also, Mt. Daiasahidake is counted as one of "100 Most Famous Mountains in Japan" and is one of the most popular mountains among them.

Oe Town's mountaineering club hosts two annual hiking tours, "Himesayuri Hike" when himesayuri comes in full bloom and the Autumn Foliage Hike during the autumnal foliage season when Japanese rowans and alpine cherries change their colors.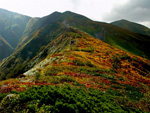 Description of the Site
Kodera Trail head
The trailhead is located in the town of Oe, approximately 3 km into the paved woodland path from Kodera Green Space Rest Center. A parking space that holds approximately 200 cars was newly constructed in 2018 in front of the trailhead. Portable toilets are available during June to late October.

Kodera Information Center
Oe-machi's Asahi Mountain Range Information Center has opened as a service window for mountain tourism at the Kodera Trailhead, and it has become the popular starting point for the hike up to mountains such as Mt. Oasahidake, the main peak of the Asahi Mountain Range that represents the Tohoku Region as one of "100 Most Famous Mountains in Japan." Equipped with lodging capability, it also acts as the base facility for mountain climbing. The fresh green in spring, the summer virgin forest of beech, and the autumnal foliage will provide mental and physical relaxation for visitors. Experience the journey through mountains, utilizing this facility as the starting point for the traverse through the Asahi Mountain Range.
Usage fees are as follows:
One night stay with two meals: from 9,000 yen (tax included) and up
One night stay without meals: from 5,000 yen (tax included) and up
Shower use only: 500 yen
Capacity: 25 people
Open: during June to October
Reservations and Inquiry
Oe-machi Asahi Mountain Range Information Center
Tel: 090-4638-7260 (Satellite phone)



Oasahi Mountain Hut
This shelter hut is located near the summit of Mt. Oaiasahidake (1,790 m elevation). Because it's a shelter hut, there is no need for reservations to use it.
Asahi Military Road
In the Age of Provincial Wars, Naoe Kanetsugu, a vassal of the Uesugi family, was ordered to govern over Yonezawa and Shonai areas. However, in order to reach the Shonai area, he was forced to travel through the enemy land ruled by the Mogami family. He devised a way to fulfill his duty by secretly constructing the road to go over the Asahi Mountain Range from Yonezawa. Parts of the zigzag road still remain today on the mountainside of Mt. Itodake.