Roadside Station Oe
A roadside station located along National Route 287 that runs through the town of Oe. The facility sells agricultural and processed products, local specialties, and other souvenirs, and also houses a section for light refreshments. It is the second most popular tourist facility in town next to Terme Hakuryo Health Spa, and houses a market named "Tagayase Oe" selling popular items such as freshly harvested seasonal wild plants and farm products. Relax and enjoy the adjoining Terme Hakuryo Health Spa and the hot spring of Hakuryo-so after shopping.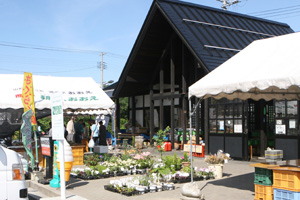 ▲Roadside Station Oe Exterior
Facility Summary
Location:218-1 Oaza Fujita, Oe-machi, Nishimurayama-gun, Yamagata
Tel/Fax:0237-62-5845
Closed:Year end and New Year holidays.
Open hours:[April to October] 9 AM to 6 PM / [November to March] 9 AM to 5:30 PM
Parking:7 Large-sized vehicles, 38 Standard-sized cars, 2 priority spaces (open 24 hours)
Number of Toilets:8 men's, 2 Women's, 2 Accessible toilets (open 24 hours)
Main Facilities:Light refreshments area, farmer's market, Local Specialty section, road information guidance display, etc.
(1) Landmark Tower
10-meter high and designed after koukai-bune (literally, "small cormorant boat"), the tower creates the atmosphere of a by-gone era when ship transportation flourished.
▲Photograph titled "Setting Sail in Fog." The Landmark Tower emerges fantastically in the fog.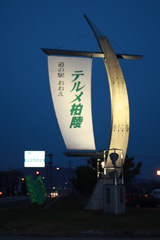 (2) Light Refreshments
A comfortable place with a cozy and relaxed atmosphere. The serene interior is the combination of traditional Japanese architecture and contemporary design.

(3) Fruit and Vegetable
Producers directly bring in their goods to sell every morning. Seasonal fresh farm products are available.
(4) Local Specialties
Friendly-priced and fresh. A collection of local specialties produced in town, as well as that of neighboring cities and towns, are on sale.









(5) Recommended Gourmet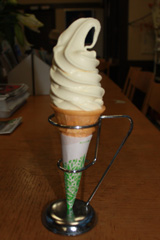 La France Soft Serve Ice Cream (250 yen, tax included)
Oe-machi's specialty, La France pear, is made into soft serve ice cream. The rich sweetness and aroma of La France exquisitely matches the smooth texture of soft serve ice cream to create a superb dessert that is worth trying.
Yaki-onigiri (Grilled Rice Ball) (150 yen/piece, tax included)
Only a limited amount per day is available since each one is hand-grilled in the morning before opening and is impossible to mass-produce. Available in two flavors: miso or soy sauce. Kon-nyaku ball (100 yen/skewer) and charcoal grilled dumplings (100 yen) are available only on weekends and holidays.
Souvenirs
Commodities Sold
| | |
| --- | --- |
| Farm products | Locally harvested vegetables and fruits, wild plants, flowers, etc. |
| Special products | Pickles of various vegetables and wild plants, frozen mochi, dried vegetables and wild plants, other local agricultural processed products, wood vinegar, and various charcoal goods. |
| Gourmet | La France Soft Serve Ice Cream, Grilled Rice Balls, Kon-nyaku Balls, Charcoal Grilled Dumplings, etc. |
| Locally brewed sake | Oe-nishiki "Junmai", La France wine, etc. |
| Others | Light refreshments available (various udon and soba noodles, mochi, curry and rice, beef on rice bowl, etc.), natural sweetfish and sculpins available August to October. |