Okuoe Yanagawa Onsen
Officially known as the Oe-machi Yanagawa Onsen Health Promotion and Exchange Center, this secluded hot spring is located in Yanagawa district, a mountain valley west of the town of Oe.
Since its open in 1995 (natural emergence of the spring water had stopped due to the influence of the Great East Japan Earthquake, and was newly excavated in September, 2011), the hot spring has been known for its water quality consisting of sodium-sulfate and chlorides that is efficacious against hardening of the arteries, cuts, burns, and chronic skin disease, as well as it being drinkable (believed to be good for chronic gallbladder inflammation, constipation, obesity, and cavity protection). It is also known as the "Netsu-no-yu (Spring of Heat)," for its heat insulation effect compared to other hot springs.
Other than the hot spring baths, the facility also consists of a store and lodging facilities, welcoming many visitors from both inside and outside of the prefecture for various usage, from day-use, stay-over, and hot-spring cure. Also, one of the famous spots for autumn foliage viewing in the prefecture called "Jintsu-kyo Gorge" is located nearby. (Hot water supplied directly from the source.)
Facility Summary
Location:〒990-1274 1502-3 Oaza Yanagawa, Oe-machi, Nishimurayama-gun, Yamagata
Closed:First Tuesday of the month (Open if holidays)
Open hours:(March to October) 6 AM to 8 PM/(November to February) 6:30 AM to 8 PM
Tel:0237-64-2151
Access: 40 minutes by bus from Aterazawa Station
Bathing Fees
| | |
| --- | --- |
| Child (Up to elementary school student) | 150 yen |
| Adult | 350 yen |
| Book of Tickets (13 tickets) | 3,500 yen |
Relaxation Room
| | |
| --- | --- |
| Large relaxation room (8:30 AM to 5 PM) | 350 yen/person |
| 8 tatami-mats Japanese-style room (8:30 AM to 8 PM) | 700 yen/hour |
| 10 tatami-mats Japanese-style room (8:30 AM to 8 PM) | 800 yen/hour |
| 12.5 tatami-mats Japanese-style room (8:30 AM to 8 PM) | 1,000 yen/hour |
Lodging charges, for one to two nights-stay without meals (for one adult, tax charged separately)
☆Lodge A (5 rooms, each equipped with kitchen and toilet)
| | |
| --- | --- |
| Weekdays | Adult 5,870 yen |
| Day before holidays | Adult 6,420 yen |
☆Lodge B (5 rooms, with communal kitchen and toilet)
| | |
| --- | --- |
| Weekdays | Adult 4,770 yen |
| Day before holidays | Adult 5,320 yen |
*Notice
1) "Day before holidays" means the day prior to Sundays and national holidays.
2) Additional heating fee of 500 yen per room will be added during the winter period.
3) Check-in 3 PM, Check-out 10 AM
4) Fees for an elementary school child will be 70% and infants 50% of the prices shown above.
Reservations need to be made up to three days prior to the date of the stay.
*Two people or more per room minimum for the lodging price shown above.
*Inquire about availability when staying more than three nights.
About Hot Spring Quality
The water is transparent, slightly salty and has the smell of hydrogen sulfide. It contains 2.8 grams of dissolved ingredient (sodium, calcium, sulfur, and fluorine, etc.) per liter, which is about one-eighth of Terme's water. It is known to be efficacious when drunk as well.
Bathing is good for:
Hardening of the arteries, cuts, burns, chronic skin disease, fragile children, chronic women's diseases, neuralgia, sore muscles, arthralgia, frozen shoulder, motor paralysis, joint stiffness, bruises, sprains, chronic enteropathy, hemorrhoid, poor circulation, convalescence recovery, fatigue recovery, and health improvement.

Consumption is good for:
Chronic gallbladder inflammation, cholelithiasis, chronic constipation, obesity, gout, chronic enteropathy, and dental disease
Hot Spring Facility
Indoor Baths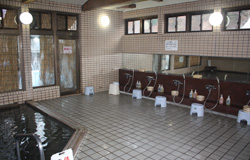 Okuoe Yanagawa Onsen houses two indoor baths and two outdoor baths. Two types of indoor baths (cypress bath and rock bath) are connected to the outdoor bath of each type respectively. Two types of bath are allocated as men's and women's and alternate weekly.
Cypress Bath
Tasteful and serene bathtub framed in Japanese cypress wood.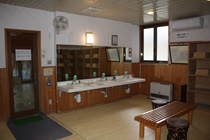 Rock Bath
The bathtub surrounded by the rocks provides the special atmosphere of a secluded hot spring. Large windows let the bathers enjoy the beautiful scenery of the four seasons.
Outdoor Baths
Two types of baths both have indoor and outdoor baths and bathers can go back and forth freely. (Notice: Outdoor bath #1 can only be accessed from the Cypress Bath and #2 from the Rock Bath.)
Outdoor Bath #1
Outdoor bath accessible from the Cypress Bath. Hydrangea, the designated flower of the town is planted around the bathtub, which blooms white, blue, and purple flowers in late June.
Outdoor Bath #2
Outdoor bath accessible from the Rock Bath. It offers a great view of the surrounding mountains in each of the four seasons. Also, when the sky is clear during the night, bathers will get a great view of the stars and the moon.
Water Fountain for Drinking
Located at the front entrance. The spring water is believed to be good for the gallbladder, in the treatment of constipation and obesity, and also cavity protection when consumed. Free of charge and can be taken home in a container. Footbath is also located adjacent.
Footbath

Installed on December 10th, 2011, it's located at the front entrance. Free of charge and is connected directly to the hot spring source nearby. The slow-welling footbath will warm your entire body from your feet. Highly recommended to try on your visit. Spring water drinking fountain is located adjacent.
Facility Summary
(1) Store
On sale at the store are the fresh, locally grown vegetables in season harvested daily, wild plants, and other local specialties. Other snacks such as bread and soft serve ice cream are also available and are purchased by visitors for their after-bath treats to enjoy in the relaxation room.
(2) Lobby and Pellet Stoves
Coming in through the entrance, there is a space for relaxing in the lobby after bathing. Built with a high ceiling and ample natural wood, the lobby is cool during summer and is kept warm during winter by the two large pellet stoves installed. Pellet stove uses wood pellets (made from lumbering byproducts such as sawdust and shavings, compressed into small pellets) as fuel and therefore emits little to no CO2, making it a very environment-friendly stove. The flame of the wood pellets burning can be seen through the front, which is relaxing just to watch.
(3) Japanese-Style Private Rooms
8 tatami-mats: (700 yen/hour)
10 tatami-mats: (800 yen/hour)
12.5 tatami-mats: (1,000 yen/hour)
Three types available. Each room is equipped with teacups and TV.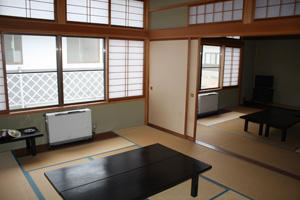 (4) Large Relaxation Room and Space
Across the roofed passage is the relaxation space and large relaxation room. The entire building has floor heating to keep it warm during winter (usage fee: 350 yen/person). Many guests eat the goodies they purchased at the store in the rooms.
・Relaxation Space: Across the roofed passage and just left.
・Large Relaxation Room: Across the roofed passage, the room on the right.
(5) Lodging Building (Stay without meals only)
Okuoe Yanagawa Onsen houses two types of lodging buildings, type A (Furusato Koryu-kan) and type B (farming experience facility), totaling ten rooms. Fully equipped with kitchen and cooking utensils, they are available for long-term stays as well.
Lodging Building A Furusato Koryu-kan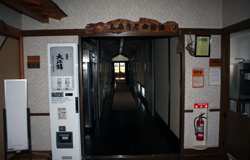 Consists of 5 rooms. Each room is equipped with a kitchen, cooking utensil, and toilet.
Lodging building B Farming Experience Facility, Lodging Building
Communal kitchen, bathroom, and the grand hall are in front. 5 rooms for lodging are in the back.
(6) Soba Noodle School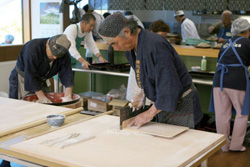 Take a lesson from the master soba maker on how to make soba noodles with 100% buckwheat flour in the method handed down secretly. Certification will be given to those who mastered the basic and secret techniques.
☆Soba Noodle Experience
Available sign-up hours: 10 AM to 1 PM
Time required for the tour and lesson: 3 hours (includes tasting)
Entrance and experience fee (one person): 3,200 yen
Includes bathing and relaxation room fees.
*Large group application available upon consultation (reservations required)
Reservations can be made for groups with more than 3 people. Maximum of 80 people can be accommodated (reservations will be accepted three days in advance).
Souvenirs
Commodities Sold
| | |
| --- | --- |
| Farm products | Locally harvested vegetables, fruits, wild plants, mushrooms, etc. |
| Special products | Stewed carp, Mao Udon and Somen noodles, Ama-ponpon, Kon-nyaku, etc. |
| Processed farm products | Wild grapes, apple, and La France pear juices, cans of various mushrooms, and dried vegetables and wild plants |
| Locally brewed sake | Oe-nishiki |
| Others | Soft serve ice cream, bread, etc. |