Tateyama Park

Aterazawa Tateyama Castle Historic Park (Nipponichi koen)
The park is located on the hill north of Aterazawa Station, the last stop for the JR Aterazawa Line, inside the historic site of Aterazawa Tateyama Castle built by the local powerful Oe clan. Great views of the grand Mogami River winding below and mountains of the Asahi Mountain Range and Mt. Zao in the distance can be enjoyed from the arbor at the top. This location is known to offer the very best view of the Mogami River among its total length of 224 km and has been a mecca for many painters and photographers inside and outside of the prefecture. The wonderful view has been selected as one of the Mogami River Viewpoints in 1997, and also as one of "100 Best Walks in Japan" in 2002. Live camera has been installed to broadcast the present view from the summit of Tateyama Park.Here! Period: All year around

Description of the Site
(1) Aterazawa Tateyama Castle Ruins
The ruins are believed to be that of a mountain castle built sometime between 1346 and 1370 by Aterazawa Mototoki, a member of the Oe family, utilizing the natural topography and successfully protected the area for approximately 270 years after its foundation. This location was suitable for building a river castle that ruled over the people living prosperously off of the water transportation on the Mogami River and at the same time played the role of a surveillance post over a river passage, looking out for any invaders. It is believed that samurai warriors would live in their foothill residence during peacetime and would barricade themselves in the castle on the mountaintop in an emergency.
After the long research and study that started in 1998, the historical value of the Aterazawa Tateyama Castle site was recognized for being located at an important point of transportation where roads from all directions that connected regions of such as the Shonai area intersected in addition to having the benefit of water transportation on the Mogami River, and was designated as a national cultural property on February 12, 2009.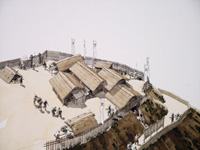 (2) Monument for Mogami-gawa Funauta(the Mogami River Boatmen Song)
This monument was built in 1962, here on the summit of Tateyama Park that overlooks the Mogami River running through the town of Oe, to praise the merits of the late venerable Iwataro Goto, the arranger of Mogami-gawa Funauta (literally, "the Mogami River Boatmen Song") on the 10th anniversary of his passing and in hopes to pray for the preservation and diffusion of the orthodox version of the song.
(3) Arbor
There is an arbor at the summit, providing a place to relax and enjoy the view. It is also a great spot for cherry blossom viewing when the flowers bloom in spring.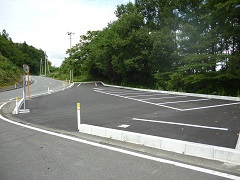 ☆Parking Space Available☆
There is no parking inside the park premises, so please park your car here.
It is approximately 200 m away from the park.