Terme Hakuryo Health Spa
The largest hot spring facility in town, located next to the Roadside Station Oe (along national highway 287). It is the general name for two facilities: the Oe-machi Health Onsen Museum and Workers' General Welfare Center.
Opened in 1995, this hot spring is known for its unique spring quality, which is high in concentration at the nationwide level. The color of the water changes daily, from emerald-green, milky-white to transparent, a characteristic of the onsen, earning many fans not only locals but also from both inside and outside of the prefecture. The name of the hot spring is Funauta Onsen, and the water of the hot spring includes common salt, calcium, and sulfur. Along with two indoor baths, named "Yasuragi-no-yu (spring of relaxation)" and "Nukumori-no-yu (spring of warmth)," the facility is equipped with a thoron sauna, which is set at a low temperature of 50 degrees Celsius and is soothing
The premises include an event space, tennis courts, karaoke room, restaurant, and conference room, all of which are available for guests to use.
(Hot water supplied directly from the source)
Facility Summary
Location:〒990-1121 831-40 Oaza Fujita, Oe-cho, Nishimurayama-gun, Yamagata
Bathing fees:350 yen/Adult, 150 yen/Child up to elementary school
Book of 13 tickets:3,500 yen/Adult
Closed:First Thursdays (Open if holidays)
Open hours:(March to October) 6 AM to 9 PM/(November to February) 6:30 AM to 9 PM
Tel:0237-83-4126
Fax:0237-83-4339
Access:5 minutes by car from Aterazawa Station.
Usage Fees
Private Rooms (8 tatami-mats size)
700 yen/hour *minimum of 2 hours use required (9 AM to 9 PM)
Rental Room "Shakunage" (15 tatami-mats size)
1,200 yen/hour
Minimum of 2 hours use required (9 AM to 9 PM).
Conference Room
1,200 yen/hour
Karaoke Room
1,000 yen/hour
Tennis Courts
400 yen/hour/court
Night lighting: 700 yen/hour/court
Hot Spring Quality
Containing large amounts of common salt, calcium, iron, manganese, magnesium, and sulfur, the onsen water has an extraordinarily high dissolved ingredient amount of approximately 20 grams per liter (equivalent to 2/3 of sea water). It is a hot spring with uniquely high density, not to mention within the prefecture but also at the nationwide level. It is believed to be good in the treatment of diabetes, neuralgia, sore muscles, chronic women's diseases, and recovery from exhaustion, earning the alias of "Wakasa-no-yu," which means "hot spring of youth." The efficaciousness of this thick water quality is extraordinary and is receiving praise from many visitors who claim that they were "able to get over their daily fatigue" or they "use periodically with the family."
Another characteristic of Funauta Onsen is the color of its water that changes every day from emerald-green to milky-white, and to transparent.
Hot Spring Facility
There are two large indoor stone-built baths each named "Nukumori-no-yu (spring of warmth)" and "Yasuragi-no-yu (spring of relaxation)," both equipped with newly built outdoor baths and also with thoron sauna rooms. The men's and women's baths are switched on the 1st and 16th every month.
Yasuragi-no-yu
A subdued stone-built large bath, overlooking the outside view from the window. Equipped with a newly built outdoor bath.
Nukumori-no-yu
A subdued stone-built large bath. 189 organic EL panels, one of the largest in the nation decorates the wall of the newly built outdoor bath, displaying a large-scale artistic festival of light created in the images of the old Mogami Bridge, fireworks, and stone garden lanterns.
Thoron Sauna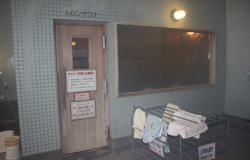 The first low-temperature saunas to be built in the prefecture. Slowly promoting perspiration with the temperature around 50 degrees Celsius. With the scent and warmth of natural cypress, it is a soothing sauna.
Facility Description
(1) Yuagari Bath Salon (After Bath Salon)
A space to relax which visitors can use for free before and after taking a bath. Natural wood is amply used to create this open space with a high ceiling, providing coolness during summer and warmth from the heated floor during winter. Some of the tables are in the sunken kotatsu style for visitors to relax comfortably.
(2) Large Hall (Multipurpose Hall)
A space for visitors to relax and use before and after taking a bath. Usually equipped with tables for guests to enjoy the food they bought at the store or brought in, after a bath. This space is also equipped with floor heating to keep warm during winter. (Self-served tea available.)
(3) Private Room
For those who wish to relax privately. The room can be used not only for taking a break after bathing but also for small parties.
(4) Tennis Courts
Tennis courts are located next to the parking lot. Many visitors enjoy playing a few games before using the hot spring.
(5) Restaurant "Kawakaze"
Restaurant located inside the Health Spa building. 36 seats at western-style tables and 24 for Japanese-style dining (low tables). Orders taken for meals after bathing or for gatherings and parties. The popular menu is the Oyakodon, chicken and eggs on a bowl of rice, made with locally raised Yamagata Jidori.
Inquiries: 0237-62-3988
(6) Store
The store specializes in a variety of special local products, including onsen tamago (slow-boiled eggs) cooked in the facility (100 yen for three), locally grown vegetables, and pickles. Swing by to find a souvenir after taking a bath.
Souvenirs
Commodities Sold
Farm products
Locally harvested vegetables and fruits
Special products
Yamagata Jidori (locally raised chicken), Mao Udon and Somen noodles, Ama-ponpon, etc.
Processed farm products
Wild grapes, apple, and La France pear juices, dried vegetables and dried wild plants,
cans of various mushrooms, and a variety of pickles
Locally brewed sake
Oe-nishiki
Others
Delicatessen, breads, onsen tamago (limited amount), onsen manju (Saturdays and Sundays only), etc.