Processed Fruits
La France Juice
La France grown in Yamagata Prefecture is also known as the "Queen of fruits". Its exceptional flavor and aroma are all bottled up. Enjoy this smooth and well-balanced texture that lingers in your mouth.
Inquiries:Kaju Kobo Kajitsu no Mori Suzuki
Tel/Fax: 0237-62-2644
La France preserved in syrup
The best time to eat La France fresh is short and limited. For enjoying La France throughout a year, we boil it in syrup and fill it in a bottle.
Inquiries:Kaju Kobo Kajitsu no Mori Suzuki
Tel/Fax: 0237-62-2644
La France Wine
La France produced in Oe Town is the only ingredient of this wine.
La France is known as the "Queen of fruits" and as the name suggests, it is an elegant high-class fruit. La France for fresh consumption is vinified to make this sweet wine with a refined fragrance at Gassan Toraya Winery. This wine is best served cold as a sweet desert wine. You can also mix equal parts of wine and ginger ale to make a great cocktail, or you can dilute it with hot tea.
720 ml 2,100 yen (tax included)
Apple Juice
This juice has been extracted from fully ripened apples which were grown organically using hand-made bio organic fertilizers called "Bokashi" with small amounts of agricultural chemicals (the number is 3 uses fewer than the prefectural average). This juice has no additives, and is sugar free 100% natural apple juice. You will enjoy the goodness of fresh apples.
Inquiries:Kaju Kobo Kajitsu no Mori Suzuki
Tel/Fax: 0237-62-2644
▲Kajitsu no Mori's original 100% Apple Juice
▲Enjoy the sugar free natural flavor of fully ripened apples
Special Original Product Caropple
Goodness of forest products and healthy energy of vegetable garden are combined into this healthy mix juice. This is an all-natural juice packed with apples, carrots, and lemons. This delicious juice will boost your energy and keep you healthy. The lemons are grown with small amounts of agricultural chemicals by a citrus garden, Unno in Atami City, Shizuoka. They don't use chemical fungicides for postharvest treatment.
Inquiries:Kaju Kobo Kajitsu no Mori Suzuki
Tel/Fax: 0237-62-2644
La France Jam and Apple Jam
We take a lot of time and carefully simmer the ingredients to bring out the good flavors of them. Please enjoy our jam in 3 different flavors (La France, Fuji Apple, Kogyoku Apple) as a great accompaniment for bread.
Inquiries:Kaju Kobo Kajitsu no Mori Suzuki
Tel/Fax: 0237-62-2644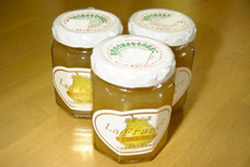 ▲They were carefully cooked down to concentrate the flavors!
Mountain Grapes Liquid Concentrate
Mountain grapes are small and each piece is about 7 to 8 mm. Also the number of pieces you can get from a bunch is not a lot, and that makes this fruit valuable. Mountain grapes contains abundant polyphenol and many people consume it in hopes that it will help to recover from fatigue and keep them healthy. We believe those who've already tried the other products will also love this product.
Please experience the rich flavor and texture blessed by the Asahi Mountain Range in Oe Town, Yamagata. You can drink without diluting it, or you can add honey and dilute with water.
Unlike the concentrated and imported juice, our product is additive free and 100% made from mountain grapes which we plant as young seedlings in the fields and spend years raising. We are thankful for the privilege of producing this special product because of Oe Town's ideal geographic location at the foot of the Asahi Mountain Range.
Inquiries:Kaju Kobo Kajitsu no Mori Suzuki
Tel/Fax: 0237-62-2644