Kokai-in Temple Main Gate

Kokai-in Temple Main Gate
In 1622, after the Mogami family which had been the ruler of the area was stripped of their rank and relocated to Omi Province, a new feudal lord was assigned. The area around Aterazawa that was worth 12,000 koku crop yields was given to Sakai Naotsugu, the younger brother of Tadakatsu, who was the lord of the Tsuruoka Domain, and the Aterazawa Domain was hereby established.
Naotsugu built a new castle (Kourushigawa Castle) in the Kourushi area to replace the old one on Mt. Tateyama, developed a new castle town in the eastern area across the Kourushi River (today's Ichinosawa River), and relocated residences, shrines, and temples from the foothills of Mt. Tateyama. The town was developed along the Gomenmachi Street that ran north to south, and Uchimachi and Yokomachi Streets that extended eastward from it. This area is the origin of the town of Aterazawa today.
However, the Aterazawa Domain did not last long. After Naotsugu passed away in 1631 without heir, his territory was taken over by the Shogunate government, and put in the care of the Tsuruoka domain. Soon the entire castle was dismantled except for the front gate, which was relocated and re-erected as the main gate of Kokai-in Temple, the family temple of Naotsugu. According to the drawings from the Edo period, the ruins of the castle such as the moat and earthen works kept their shapes till long after, until in 1902, when a new road was constructed over what used to be the main enclosure of the castle. Now the entrance gate is the only structure surviving to tell the feature of the old castle of the time.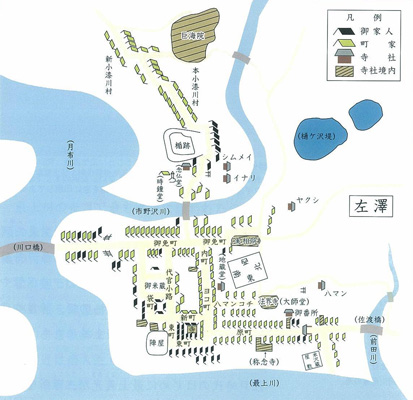 ▲Drawing of the Aterazawa Domain Territory, 1838 (from Oe Town History Supplementary Reader)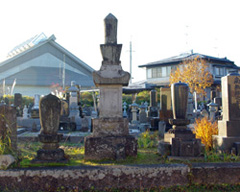 ▲Tomb of Sakai Naotsugu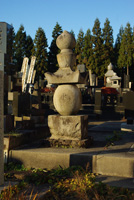 ▲Tomb of the wife of Sakai Naotsugu