Oe-nishiki
Oe Town's geographical conditions are said to be ideal especially for growing sake rice. Oe-nishiki is made by highly polished "Dewasansan" and "Miyama-nishiki" cultivated under perfect conditions and with the spring water from the Asahi Mountain Range. A new brew made from the first rice of the year called "Oe-nishiki no hatsushibori" is especially popular. You can find Oe-nishiki at liquor stores in the town.
See more about➝Oe-nishiki - Oe Town -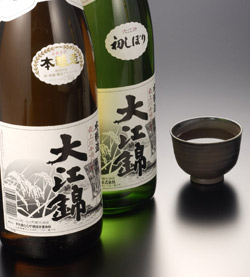 ▲Enjoy sweet flavor and elegant aroma
Sake Rice
Dewasansan
Yamagata is rich in fertile soil that is ideal for growing sake rice. Also, spring water running from the surrounding mountains is known as one of the most famed mineral water in Japan. Dewasansan is grown under such a perfect environment. A Junmai Ginjo "DEWA33" brewed by Dewasansan went viral across the country when this soft and crisp finish sake was first released. Famous brewers in Yamagata have participated in the project and make Junmai Ginjo with Dewasansan as highlighting each brewery's originality. Led by Yamagata Research Institute of Technology, the sake brewing industry in Yamagata has been focusing on R&D to further improve the overall quality of sake brewed in Yamagata for about 20 years. We were the first to work on developing Ginjo and produced "Yamagata Sanga". After that, we conducted R&D on yeast from various angles and found Yamagata yeast and Seisei yeast. These findings have contributed to a significant increase in the frequency of each brewery's winning at sake competitions. Also, we launched our own activities for developing perfect sake rice for making sake and the Yamagata Prefectural Agricultural Experiment Station finally gave birth to Dewasansan.
Miyama-nishiki
This relatively new sake rice was a result of a mutation in 1978 when "Takane-nishiki" (hybrid between the pistil "Hokuriku No.12" and the stamen "Tohoku No.25") was treated with radiation at Nagano agricultural experimental station. Sake brewed by Miyama-nishiki is light with fresh aftertaste. The shimpaku (the starchy center core of each sake rice grain) is not as large as Yamada-nishiki but it was named Miyama-nishiki as its shimpaku reminds us of the snow on the summit of the Northern Japan Alps. Miyama-nishiki is mainly produced in Nagano, but it is also grown in Tohoku region including Akita Yamagata, and Iwate.
Where you can buy Oe-nishiki Dealer map.pdf
Maruki Sato Shoten Co., Ltd.(Aterazawa)
tel 0237-62-2525
Nakajimaya(Omi)
tel 0237-62-2329
Oku Shoten(Tsukinuno)
tel 0237-64-2947
Sei suzuki saketen(hongoki)
tel 0237-62-2217
Kikuchi shōten(Aterazawa)
tel 0237-62-2154
Hayashi takeIchirō shōten(Aterazawa)
tel 0237-62-2032
Kikuchi Yoichirō shōten(San gou otsu)
tel 0237-62-3143
Satō shōten(Yanagawa)
tel 0237-64-2706
Suzuki shōten(Fujita)
tel 0237-62-2306
Ōechō sangyō shinkō kōsha
tel 0237ー85-1126