Oyama Natural Park

Oyama Natural Park
Oyama Natural Park is constructed on the summit area of Mt. Oyama (Elevation: 317 m) located southwest of JR Aterazawa Station, in woodland environment. Excellent views of the Asahi Mountain Range, Mt. Gassan, and the Ou Mountains can be enjoyed from the open space and observation deck in the park.
The park overlooks the townscape of Aterazawa as well as the Murayama Basin in the Sagae- and Tendo-city direction.
Here! Period:April 1st-November 30th
Since September 16, 2020
Incidents of wild boars destroying the local environment have been reported on the Oyama Natura Park premises.
Electric fences have been installed for prevention of further damage, so please pay extra attention to children so that they do not touch them when using the park.
Although safety measures have been implemented to the electric fence, it will cause a severe pain when touched.
Inquiries:
Town of Oe Agriculture and Forestry section, Agricultural Administration office
Tel: 0237-62-2115
Facility Usage Fee
Meeting room in the administration building: 1,200 yen/hour (air-conditioning fee included)
Cottage Buildings
Weekdays
Day before holidays / designated period
Building A
(8 persons)
Stay
12,000yen
15,000yen
Rest
7,000yen
7,000yen
Building B
(6 persons)
Stay
11,000yen
14,000yen
Rest
6,000yen
6,000yen
Building C
(5 persons)
Stay
10,000yen
13,500yen
Rest
6,000yen
6,000yen
Building D
(4 persons)
Stay
9,500yen
13,000yen
Rest
6,000yen
6,000yen
Building E
(11 persons)
Stay
13,000yen
16,500yen
Rest
7,000円
7,000円
Building F
(8 persons)
Stay
12,000yen
15,500yen
Rest
7,000yen
7,000yen
*Usage Time: From 4 PM to 10 AM the following day for staying, from 11 AM to 3 PM for resting.
*Day before holidays means the day prior to Sundays and holidays.
*Extra fee for persons beyond designated capacity: 1,500 yen/extra person.
*Designated period: From April 28 to May 6, July 20 to August 20.
*Air-conditioning fee: 1,000 yen per building will be charged when necessary.
Usage fee for Camping Ground and Communal Kitchen
| | |
| --- | --- |
| Usage Time | 1 PM to noon on the following day |
| A tent/night | 600 yen |
| Kitchen/person | 100 yen |
Inquiries
Oyama Natural Park Administration Building (Open period: April 1 to November 30)
Location:〒990-1122 820 Oaza Omi Oyama, Oe-machi, Nishimurayama-gun, Yamagata
Tel:0237-62-5421
Terme Hakuryo Health Spa (For winter period: December 1 to March 31)
Location:
〒990-1121
831-40 Fujita, Oe-machi, Nishimurayama-gun, Yamagata
Tel:0237-83-4126
Fax:0237-83-4339

Description of the Site
(1) Cottages
There are six types, Buildings A thru F.
The interior is roomy enough for family and friends to relax and is filled with the feel of tender warmth of natural lumber.
Meals will be self-prepared by guests using the installed facility (full range of cooking utensils available) with their own food materials and seasoning.
All buildings are equipped with a bathroom and toilet. Terme Hakuryo Health Spa that has thoron sauna rooms is located nearby (3 km). The resort is highly recommended for those who wish to enjoy the spa relaxation.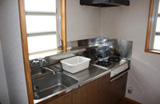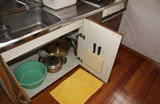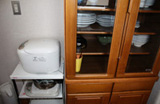 ▲Living Room: Just right from the entrance is the living room. To the right in the back in the photo is the shower & bathroom. Upstairs is the bedroom, and the kitchen is located on the right.
(2) View from the hill
The entire view of the Murayama Basin can be seen from the space between Buildings E and F. You may not be able to tell from the photo, but the night view from here is excellent. This is the best spot for enjoying the nightscape in Oyama because the administration building is closed during the night.

(3) Administration Building
The sum of the elevation of the mountain and the height of the facility is 334 m, a meter taller than the Tokyo Tower. The 360 degree-panoramic view of the Asahi Mountain Range, Mt. Gassan, Mt. Hayama, Mt. Zao and other surrounding mountains can be enjoyed from here. The building is also equipped with an elevator, making it easily accessible for anyone. The building also includes study rooms No. 1 and No.2, processing practice room and other facilities, which can be used for culture schools and other purposes. The live camera is installed on the corner of this building.
(4) Lawn Park
The open space is a popular spot for playing catch and other exercises, as well as for sunbathing. It also equipped with swings and seesaws, and can be enjoyed by people of all ages.
(5) Trail
The park has an approximately 8 km-long promenade which runs through the woods full of plants in their natural habitat, and it is also great for hiking. Moreover, 43 species of approximately 23,000 trees have been planted, and these along with various flowers that bloom in each season, are a joy to see. Fill up your chest with the fresh clean air and enjoy.
(6) Himesayuri (Princess little lily)
This is an invaluable flower of the lily family which can only be found in the three southern prefectures of the Tohoku region, Miyagi, Yamagata, and Fukushima, as well as in a part of Niigata Prefecture. The elegant pale pink appearance has earned another alias of otomeyuri, or "maiden lily." From late May to early June every year, the Oyama Natural Park Lily Festival is held at the park where many himesayuri grow. The planting of bulbs was started in 1998 in an attempt to recover the field of himesayuri throughout the Oyama area, where the flower used to grow naturally. Today, approximately 60,000 flowers of himesayuri bloom along the trail in the park and by the cottages.